Thank you for choosing Urah Product!
BREAK THE CYCLE OF PAINS
with
Amazing Micellar Technology
Live Healthy & Happy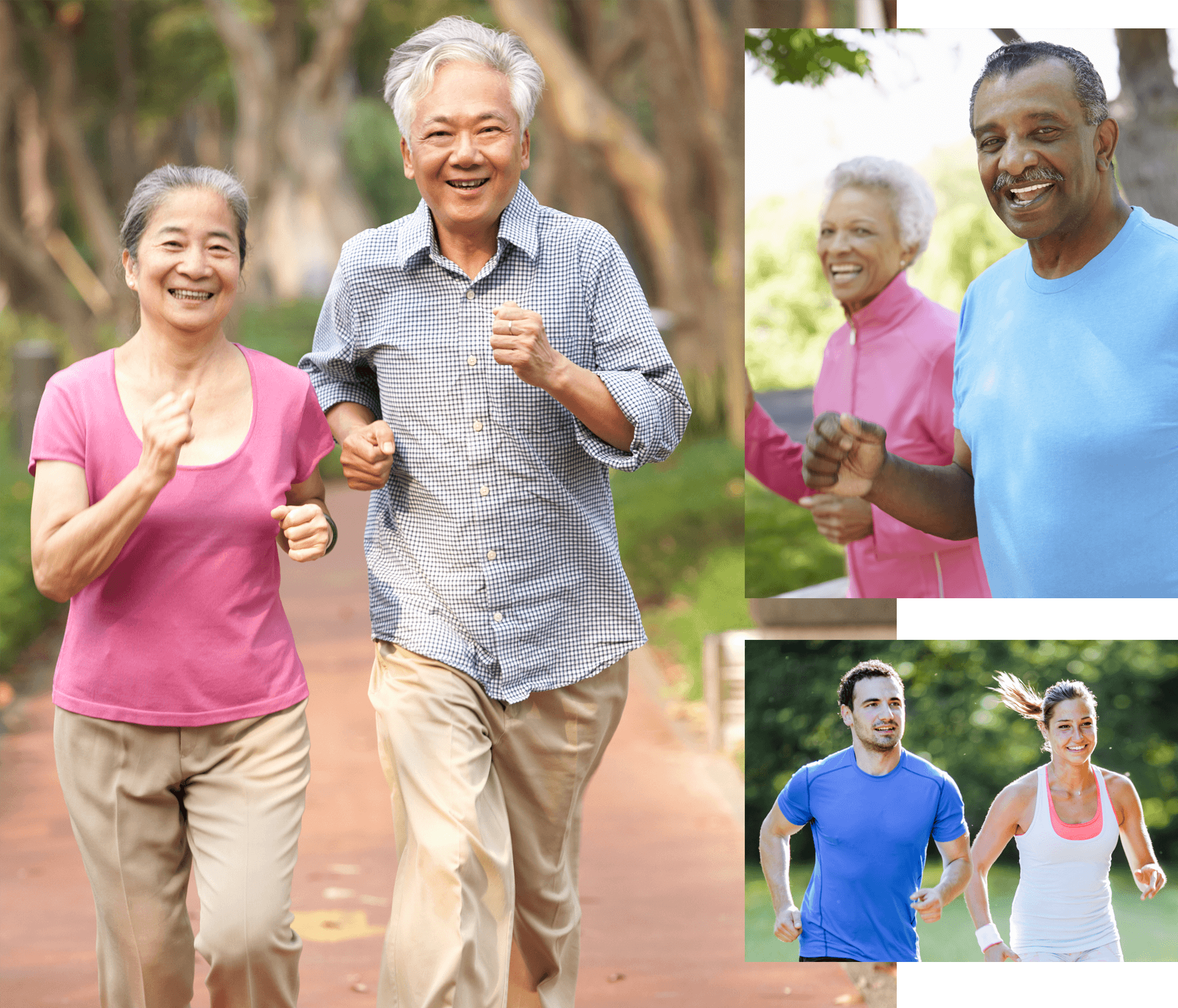 Strengthen Joints and Bones with Urah Micellar Glucosamine Cream.
Start Exercising Today!
Regular Walking & Exercise Cures Many Diseases
Joint & Body Pain is a major reason why many people are unable to engage in physical activities such as workouts, sporting activities and normal daily routines. Arthritis and Osteoporosis are responsible for 90% of immobility and physical inactivity. Immobility and solitude lead to obesity and high blood pressure which, in most cases, triggers a chain of other chronic diseases such as diabetes, high cholesterol, cardiovascular diseases and depression.
Regular walking & exercise reduces the risk of getting chronic diseases. Regular walking & exercise improves our mental, social and spiritual wellbeing. Walking & Exercise cost much less and does not require Doctor's prescription. Yet many of us fail to practice regular Walking & Exercise either because we do not have the TIME or we are hindered by JOINT & BODY PAINS.
Trapped in the vicious cycle of pain
We are therefore easily trapped in the vicious cycle of PAIN. When we are not able to exercise due to joint pain, obesity and chronic diseases set in. Then we start visiting the Doctor and less time to exercise, and we get more pains. The pain cycle begins.
Good News!
You can now break the PAIN CYCLE with Urah innovation Micellar therapy which is based on a technology patented in the US, Japan and Singapore. Visit: www.urah.com.sg for amazing testimonies.
Testimony
"Hello Urah! I am a successful case of using your product. After using your sporting cream for three weeks, my year old knee problem has almost gone. I very much like to introduce your products to my fellow golfer and lawns bowlers friends in Hong Kong. So many of them are suffering the similar problems"
–Terrence Lee (Hong Kong)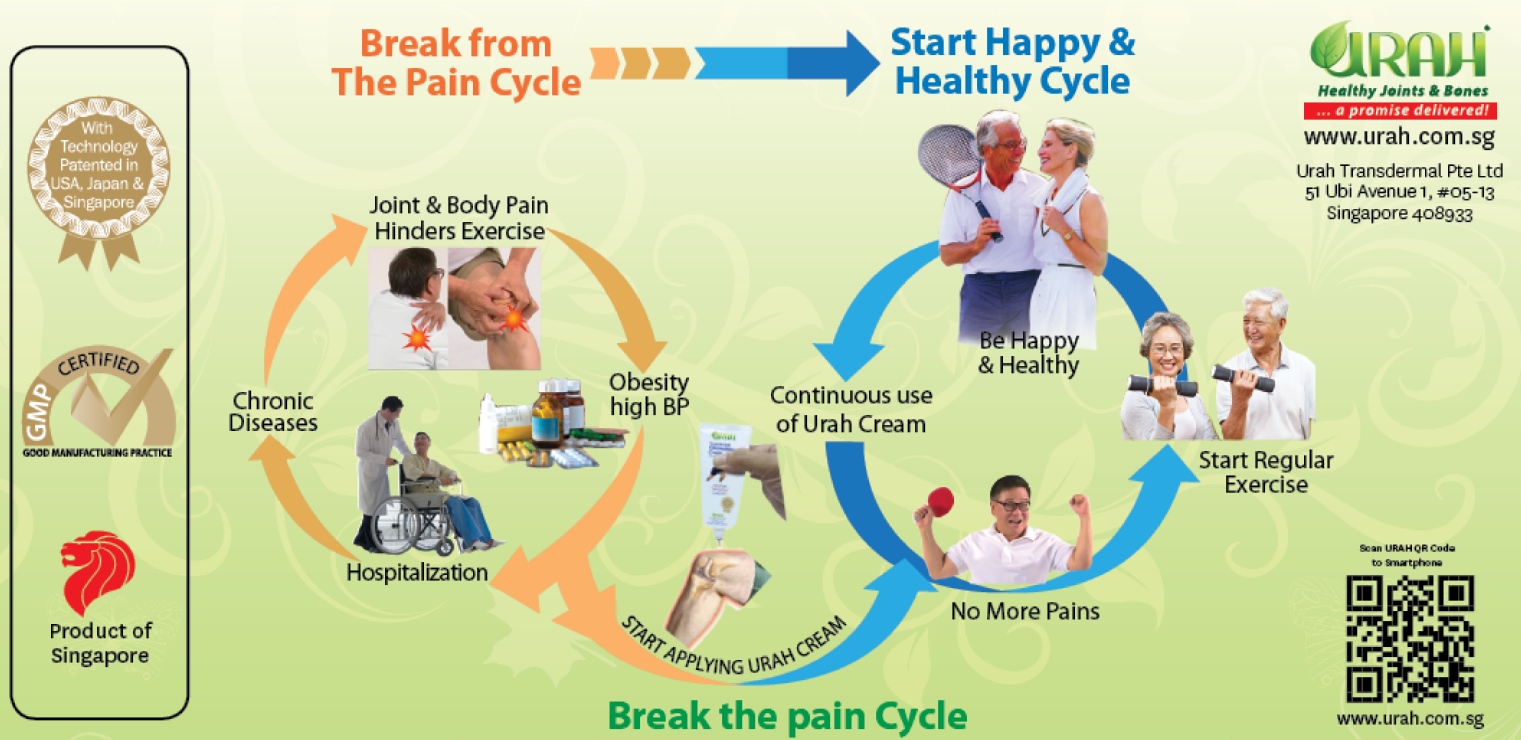 No. 1 Pain Relief Innovation
Clinically Tested
Product of Singapore
With Technology Patented in JAPAN, USA & Singapore
Multiple Award Winning Technology
Lasting Relief
No Side Effects
No. 1 For the Young, the Elderly, Athletes & Sport Lovers
No. 1 Proven Topical Cream without Placebo Hot or Cooling Temporary Masking Sensation
No Menthol, No Capsaicin, No Eucalyptus, Non Greasy
No Placebo Masking Sensation
No Odour, No Colour, No Stains
No Residues Left on the Skin, Fully Absorbed and Delivered
Feel Smooth & Natural on the Skin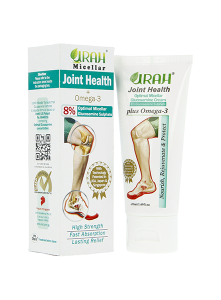 Joint Health plus Omega-3
8% Glucosamine with Omega-3
Relieves Joint & Body Aches for Active Living
Omega 3 reduces stiffness and increase blood circulation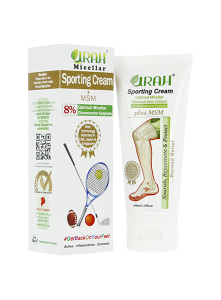 Sporting Cream plus MSM
8% Glucosamine with MSM
Relieves Muscle Ache & Soreness from exercise and increase your energy
For Athletes & Sports Lovers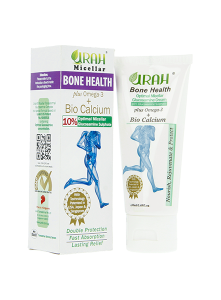 Bone Health plus Omega-3
10 Glucosamine + Bio-Calcium
Triple Action Dual Target
Relief, Rebuild & Protect Bone & Cartilage
Do You Know Why Many Glucosamine Products Do Not Work?
Answer: Unless glucosamine is delivered to the blood circulation, it does not work. It is difficult to deliver glucosamine orally or through the skin. It requires a special Micellar Delivery Technology to deliver Glucosamine to the blood circulation.
Many clinical researches have shown that oral Glucosamine may not work due to low absorption of glucosamine in the gastric (known as the "low bioavailability problem"). Also, the acidic nature of Glucosamine compounds may cause gastric irritations, nausea and wheezing. The more glucosamine quantity you swallow the more likely you are to get gastric pain. This is why many medical doctors do not prescribe oral Glucosamine tablets, capsules, powders or liquids.
Many topical Glucosamine products do not work also because it is difficult to deliver Glucosamine through the skin layers into the blood circulation. Most topical glucosamine products contain either too little glucosamine or thee glucosamine form residues on the skin few minutes after application without delivery. It requires a special Micellar Delivery Technology to deliver high concentration of Glucosamine across the skin layers into the blood circulation.
Most topical Glucosamine products therefore mask lack of efficacy with the placebo "Hot & Cooling" sensation by adding menthol, capcaicin, camphor, eucalyptus, to give the "hot" or "cooling" sensation which normally last only a few minutes.
Urah Micellar Transdermal Technology has solved the above limitation by providing a Clinically Tested effective topical Glucosamine Cream backed by Technology Patents in the US (Patent No. 6846916), Japan (Patent No. 4580234) & Singapore (Patent No. SG102614).
Urah Micellar Glucosamine Cream is a scientific formula for non-invasive treatment of Glucosamine deficiency syndromes such as osteoarthritis, joint and body pains, muscular stress & fatigue, sprain and inflammation. Urah Cream is all NATURAL, odourless, non-greasy & smooth on the skin.
How to Check for URAH Quality
No. 1 No Hot or Cooling Placebo Sensation
Micellar Technology does not require the "Hot & Cooling" placebo sensation. Most other products use menthol, capsaicin (chili), camphor, and so on, to create the placebo Hot & Cooling sensation which may not give any value beyond the temporary sensation. Be careful to choose genuine Urah Micellar Product without the Hot & Cooling Sensation.
No. 2 Complete absorption on the skin
After applying Urah Micellar Cream, wait for about 15 minutes then rub the spot again with your index finger, pressing a bit harder. You will find no glucosamine residue left on the skin. It is completely absorbed… Delivered as promised! For many other Glucosamine creams you may observe whitish powdery residues of Glucosamine on your skin, which shows Glucosamine was not delivered.
No. 3 Check the packaging labels for the concentration of Glucosamine
Because it is difficult to formulate high concentration of Glucosamine into creams, many brands with very low concentrations of Glucosamine do not indicate percentage (%) content on their packaging. Any cream containing below 7% glucosamine or less than 70mg per 1g serving may not give you much benefits.
How to Use Urah Micellar Cream for Optimal Results
One tube of 50g/unit is the recommended starter's dose which must be finished within 2-3 weeks.
Apply 2-3 times daily to the affected areas. Rub sufficiently to cover the affected areas. For maximum benefits, finish 50g tube within 2-3 weeks. Continue to apply the cream after condition has improved for long term maintenance of Healthy Joints.
Once the seal on the tube is broken, the cream must be completely used within 2 months. Expiry date on the packaging remains valid until the seal is broken.
For external use only. Keep in cool dry place. Keep out of reach of children. If on warfarin treatment, please seek Doctor's advice. Not for gout.
After you begin to experience relief, start regular exercise together with continuous use of Urah Micellar Cream for lasting benefits, and to avoid recurrence of the pain syndromes. Keep yourself in the Healthy & Happy cycle.
Dosage: Rub ~0.5g per affected area 2-3 times daily. Can be applied to knee, ankle, neck, shoulder, wrist, back, hands, elbow, fingers, muscles, etc.